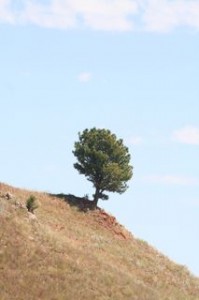 I titled this picture "Alone on the Edge"
Do you feel alone, afraid, uncertain of your future? Do you feel sad, torn, tortured? Like this tree battling the elements without the comfort of a forest, there is a way to stay strong and tenacious in the midst of turmoil. I encourage you with these simple words of truth.
YOU ARE NOT ALONE
GOD CARES
HE SEES EACH FALLING TEAR
HE HOLDS EACH TORTURED MOMENT CRADLED CLOSE TO HIS HEART
This scripture brought immense comfort when I was in my darkest moment, but I had to choose to believe the words though my circumstances looked bleak.
Dear friend, chose to believe for God promises...
You whom I have upheld since you were conceived, and have carried since your birth. Even to your old age and gray hairs I am He, I am He who will sustain you. I have made you and I will carry you; I will sustain you and I will rescue you. Isaiah 46:3b-4