WHEN LIFE IS TOO BUSY TO BREATHE
I have been working tirelessly at a new business my husband and I recently acquired. Too many hours in a day demanded. Too many days of the week spent. Too many weeks of the year evaporate into thin air. Gone!
So today I decided to purposefully take time to reflect, to ponder, to quiet my racing soul. For the stress levels were rising and my spirit felt disjointed and distant from my Creator.
The best way for me to find peace is to walk deep into the forest and let God's creation speak. This is what I heard.
The steep descent from canyon ridge to canyon floor left humanity far behind.  Just what I needed.
The spring run-off from the creek below grew increasingly loud and arrogant. At the canyon bottom the rush and roar reminded me of my busy life. I was like that water ever screaming through my day. The pull, the tug, the demand of the current was like the responsibility of managing staff, ordering inventory, learning a new computer system, revamping, rebuilding, restructuring…busy, busy, busy.
As I meandered along the chaotic creek busting at the seams, I realized what God was saying. "Spring run-off is but for a season, soon this raging torrent will subside to friendly waters. Be of good cheer, your life will once again gentle."
Ahhhh, what a pleasant thought.
I let the word "gentle" roll around in my head.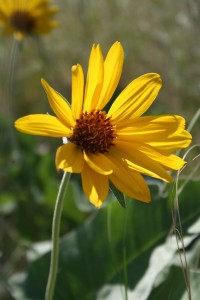 My eyes caught the hues of wild purple Lupins, bright yellow Sunflowers, verdant green moss clinging from darkened bark, the red breast of a robin, and black clouds against cobalt blue. The world was alive with color.
Again God spoke…"Life is colorful, some days are bright and cheery, others are dark or blue, but I am in them all. I will never leave you nor forsake you."
At this reminder I could literally feel my body begin to unwind. I did not have to be in control, nor did I have control. The same God who created the colors of the rainbow, would paint the picture of my life.
The endless sing-song of birds twittering and tweeting, the rustling of wind blown leaves, and the bliss of
NO
man-made noise was purely divine. Like turning off the endless chatter of a radio station, the tranquility of nature soothed my tired soul.
It felt like God orchestrated a symphony just for me.  I could feel his gentle presence whisper… "Enjoy my child."
And so I did.
As tension poured from my being and my body relaxed, I was blessed with one more delicious treat. If you have ever walked in the spring after a cleansing rain, you will relate. The smells are unbelievably sweet. Wild roses, new leaves, and spring blossoms (to mention just a few) permeated my walk with perfume from heaven.
Kinda like the icing on top the cake. God smiled down and whispered…"Breathe. Take a deep breath in, and breathe."
Ahhh...Yes! Sweet smells, sweet sounds, sweet peace. Thank you Jesus.
I found God today in the solace and quiet of His creation and learned a valuable lesson. No matter what season I find my life in, be it happy, sad, peaceful, painful, or incredibly busy, God is in it. I just have to seek and I will find Him.