Conclusion to "When Good Gals or Guys Get Mad!" (Part three of a three part series)
If you have been betrayed...your anger may surface over and over.
Do not become disheartened, God will never leave or forsake you even if everyone else does. Healing from betrayal is a process. Give yourself the freedom of time.
One of the ways God supplied help in my circumstance was to provide a Godly counselor. I had opportunity to pour out my anger without causing further damage to my marriage. The professional advice and kind listening ear was worth every penny. If you cannot afford a counselor, seek out a Godly friend or pastor in whom to confide. Do not walk through this troubled season alone.
Jesus used a whip in the temple courts. I don't suggest you follow suit, because if you're anything like me, you will feel tempted to misuse it. However, there is much to be said about the value of physical activity to defuse anger.
As a Personal Trainer, I put into practice what I preached. I hit the pavement running. The endorphins produced in the brain caused a positive boost to my struggling mindset and the physical burn released a good portion of my anger. Exercise works…walk, run, or take a kickboxing class. Find a way to actively release your anger until it subsides to a manageable level.
If you like to write, journal your thoughts and painful feelings. This constructively unleashes anger and helps to formulate solutions. You will note improvements you would otherwise miss. I remember reading back and realizing how my anger was diminishing. This provided the hope to believe that one day I would rid myself of anger altogether.
Lastly, guard your thoughts. I know from experience if we constantly dwell on the injustice done, we will continue to live in torment. I had to take II Corinthians 10:5 to heart:
"Take captive every thought to make it obedient to Christ."
This Spiritual discipline was difficult to implement, but powerful when applied. The truth of this verse provided the wisdom to rid my life of this anger for good.
I had to redirect my thinking and though I was not successful all the time, this worked. When Satan brought their sin to mind, I consciously and decisively had to pray and ask for strength to change my thought patterns. Talking to God stilled the urge to ingest the poison Satan served up. Taking each thought captive meant not allowing harmful thoughts the freedom to ferment and grow inside my head. The obedience of repeatedly giving God my pain reaped huge benefits. Satan could no longer use evil thought patterns to control the situation.  Consequently, freedom from anger followed.
I believe that God desires we constructively release anger, but does not want His precious children to stay that way. I speak from personal experience…for I wrestled with dark anger.
Be encouraged, the God who weeps with the broken-hearted, truly is a God of power. He can and will heal even the deepest wounds.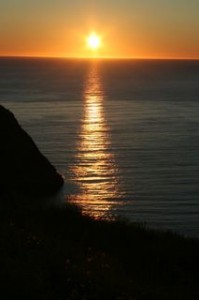 The first rays of morning sun split across the water.
The light shimmers forming a distinct cross.
I am reminded how Jesus paid the price for sin...all sin, even the sin of betrayal.
Stay Informed
When you subscribe to the blog, we will send you an e-mail when there are new updates on the site so you wouldn't miss them.
Comments
No comments made yet. Be the first to submit a comment