WHEN A FRIEND CALLS!
I have been working 12 hour days, six days a week and Sunday is my only day to unwind, schedule nothing, and as I wrote last week – BREATHE. I have to say since we bought this business, Sunday's have never been more precious.
Then…
A friend calls!
She needs immediate help. She is in crisis.
My first reaction deep within, in that place no one sees but God, was reluctance. I just didn't have time.
I immediately heard in the Spirit.
"Make time."
"But God," I whined,  "Just yesterday when reading Hebrews chapters 3 & 4 you convicted my spirit to stop working on Sunday (no laundry, no grocery shopping, no business work.) I was to REST! I set out to obey and you send this."
Truthfully, I was disappointed. My tired body and flesh rebelled. I was looking forward to a day I did nothing but relax.
Then…
I remembered…in vivid color the desperation, the heartache, how alone I felt in the midst of my sorrow.
All else faded. Nothing seemed as important. My selfish heart softened, and we set up a meeting place.
My friend met me and we walked and talked in the drizzle of a warm June rain. The weather suited her crying soul.
I did not have the answers for my troubled friend, but I knew God did.
I listened.
I listened some more. She desperately needed someone to hear her.
I was slow to give advice and fast to suggest prayer. There is something surreal about two believers in spiritual union with the only power that heals - Jesus Christ.
I hugged her.
I showed love and compassion.
And…
Like the essence of this rose covered in droplets of a much needed rain...A beautiful thing happened.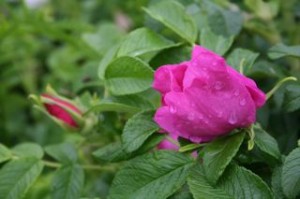 I was blessed in the giving.
Stay Informed
When you subscribe to the blog, we will send you an e-mail when there are new updates on the site so you wouldn't miss them.
Comments
No comments made yet. Be the first to submit a comment