In God We Trust...But Do We? Part 6
Thanks for joining me while I work through posting a chapter of my book  called "Friendly Fire." This chapter primarily deals with the difficulty of trusting in a good God when life is not good. If you have not read my blogs before, please go back a few weeks to Part 1 and begin there for greater clarity.
My time in Australia took on a new face. Grief faded. Anger visited, but trust became the focal point. God kept at me. Everywhere I turned, He asked me if I trusted Him. He supplied one need after another—housing-sitting jobs that gave me free lodging, a car to get around with ease, a vibrant Christ loving church, sun-soaked days lounging on the beach, amazing new friends who not only embraced me, but lavished me with love.
These people who I barely knew took it upon themselves to fill my days with wonder. From family meals, Christmas gatherings, to a weekend spent traipsing the streets of Sydney, their kindness enveloped me. We toured literally miles and miles of coastal beauty for no other reason than to exemplify God's love. From hiking in a rainforest, to day trips at the beach, shops, and parks where Kangaroos ran wild, the delights continued. They introduced me to an Aussie favorite—meat pies, my mouth still waters at the thought.
I hugged a Koala, cruised Nelson Bay on the South Pacific, and rode dirt bikes on a farm in the outback. They organized and cheered me on when I told them I wanted to skydive over the beach. Three months of heaven, and the love just kept on flowing. Their circle of friends became mine.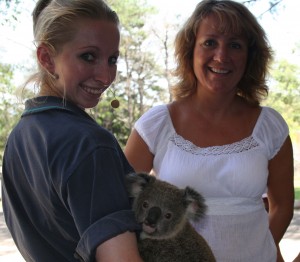 I have never experienced so much support and care in all my life—far too many wonderful experiences to articulate. I call these people my Aussie angels. Their extension of love was as if God himself wrapped His arms around me in human flesh. All the while, He kept asking—do you trust me yet?
What a difficult question. In my way of thinking, so much had gone wrong but I could not ignore the here and now. God literally jumped off the pages of the Bible, the Word came alive. The church I attended taught me how to worship God in freedom, independent of what those around me were doing. Praise had never felt so alive. God sent provision after provision, and love with hands and feet and arms that reached into my life. I could not deny His presence.
~           ~           ~
This time in Australia was as if God had one agenda, to restore my trust in Him. He used the love of His people, the beauty of His creation, and the comfort of His presence in the midst of my sorrow to bring this truth alive. He will do the same for you.
To quote Dr. Larry Crabb from his book "
66 Love Letters" ...
"
Never underestimate God's determination or ability to enter the mess you've made and the pain you feel and turn everything around. He can, and He will, make everything good again. He has a plan, a very good one, and it will move ahead to completion. Guaranteed! Trust Him. Why? Because He loves you even when you're messing up badly. He loves you in the middle of your pain even though He doesn't relieve it as quickly as you wish. He is worthy of your trust, no matter what happens in your life. He has a good plan, and nothing will stop Him from carrying it to completion. You must live now in the tension between anguish and hope."
Today over seven years later I can assuredly agree with this statement, and rest in a trust of God far richer, fuller and deeper than I could have ever imagined. However, you may find yourself in that place I found myself in and wonder if God is to be trusted. Australia was my season of question, my season of pain, my season of doubt, with God my loving and gentle teacher. The trust He restored in me, is something He is determined to restore in YOU. Cling to that hope.
To be continued...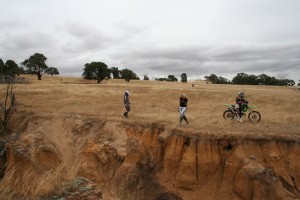 Stay Informed
When you subscribe to the blog, we will send you an e-mail when there are new updates on the site so you wouldn't miss them.
Comments
No comments made yet. Be the first to submit a comment