Thanks for joining me while I work through posting a chapter of my book  called "Friendly Fire." This chapter primarily deals with the difficulty of trusting in a good God when life is not good. If you have not read my blogs before, please go back a few weeks to Part 1 and begin there for greater clarity.
GOD'S SOVEREIGNTY
During my time in Australia, God supplied a stress free rest filled with relaxation and daily provision. He coupled this with honing in on my faith and trust in Him. I had been a Christian for over thirty-three years and yet I questioned His very sovereignty. Did God only have the right to bring my life blessing and not pain?
"
See now that I myself am He! There is no God besides me. I put to death and I bring to life, I have wounded and I will heal."
Deuteronomy 32:3
Working out God's rightful place of sovereignty was crucial to trusting Him and He knew I grappled with this concept.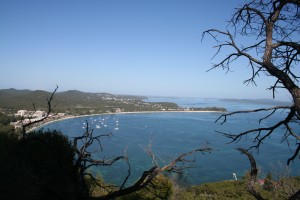 JOURNAL ENTRY
February 2009
As a teen I prayed about whom I should marry. God not only brought David into my life, but also told me to marry him. I remember that day like it was yesterday because this kind of spiritual interaction did not happen often. Driving down the highway talking to God, His directive to marry David was as clear as any conversation between two people.
So either I'm a bona fide nut cake, or the omniscient, omnipresent, omnipotent, God ordered the pages of my life into a storybook from hell. This is not a fairy tale, but a scary tale.
He keeps asking me if I trust Him. As I avoid the question, scriptures pop off the page and challenge me.
" I will lead the blind by ways they have not known, along familiar paths I will guide them and make the rough places smooth. These are the things I will do; I will not forsake them."
Isaiah 42:16
I feel blind, and the path so rough—but God you have not forsaken me, of that I'm sure.
"Forget the former things; do not dwell on the past. See, I am doing a new thing! Now it springs up; do you not perceive it? I am making a way in the desert and streams in the wasteland." Isaiah 43:18-19
God I want to heal because dwelling in the past is poison to my soul, but I'm in the desert—the wasteland—dust clouds my vision.
Faith, simply put, is trust in God—in His ways, not my ways. When I truly dissect my heart, do I trust God? Do I believe in His providence, His promises, His love? Do I trust His methodologies and timetable? Do I live Hebrews 11, knowing without faith it is impossible to please God?
My answer is no—I have whined and complained, I have screamed and yelled, I have demanded to know where my prayers went, or what purpose they served. I have trusted in a good God with blessings, but not a sovereign God who allows pain.
I'm up against a wall, hedged in, pressed and tried—I'm found lacking.
                                                                                                     ~            ~            ~
Next week the subject of God's sovereignty continues.
What if God allowed the pain of adultery in my life, with your healing in mind. Would that be fair? Would that be love? Would that be acceptable?
If you had asked me this question when I was writing the above journal entry, I would have screamed NO, but today, my answer is yes!
Why?
Because God heals the broken-hearted and sets the captive free. My story is where God wants to take your story, into the promised land of healing. God knew many men and women would fail in the arena of faithfulness. He knew there would be many broken-hearted. He knew and knows that healing is possible. I am living proof, that by His grace, His power, His strength, His word is truth and you can depend upon the hope of healing and a bright future.