When betrayed, attention from the opposite sex can be almost intoxicating and most definitively tempting. Sorry to burst that happy bubble or balloon with a pinprick of truth, but in doing so I may save you future grief and sorrow.  So here goes…
If you want to have a happy future, it lies not in a new man, or woman, but in a decision to heal. I sum up this message on how to heal in an acronym.
H – is for Hope. Proverbs 13:12 says,
"Hope deferred makes the soul sick."
NIV  We must keep the faith, keep the hope, and believe in a better tomorrow. I promise you will not always hurt like you do today. This may be hard to believe today, but it is the truth. God will heal your broken heart.
E – is for effective communication with our healer Jesus. Psalm 147:3 promises,
"He (God) heals the brokenhearted and binds up their wounds."
Effective communication encompasses reading the Bible, along with inspirational devotions such as http://christiandevotions.us/ , and encouraging blogs such as Ann Voscamp's blog on thankfulness http://www.aholyexperience.com/ann-voskamp/.  Also, never stop praying…cry out to God daily and release your sorrow to Him, for He understands betrayal. Read Matthew 26 and reacquaint yourself with the Jesus who understands your sorrow.
A – Avoid replacement. A quick fix to a betrayed, struggling soul is another relationship. The power of distraction and complimentary accolades feels like balm on an open wound, but keeps you away from focusing on healing. Yes, replacement temporarily lessens the pain, but problems deep within such as low self-esteem, trust issues, bitterness, unforgiveness, among others, remain. They will surface when the honeymoon phase of this new relationship fades.
L – is for Love. God is love. God will not fail you as mere mortals do. Lamentations 3:17-26 became one of my go-to Scriptures. The message is a powerful message on hope and God's great love for me. Joshua 1:5 encourages
,"
Be strong and courageous. Do not be terrified; do not be discouraged for the Lord your God will be with you wherever you go."
NIV What a lovely truth, to know and believe that God will never leave nor forsake, nor will He betray. Instead He loves extravagantly, and heals completely.
To place healing as a priority ensures  a future where relationship is possible, either in the restoration of your marriage or in a new relationship. Conversely an unhealed soul will present trust issues, bitterness, unforgiveness, etc. In other words the past will rule the future.
Choose the road of healing today. Though it may be a slow and often difficult process, the benefits are amazing. Put H.E.A.L. into practice and you will have found the secret to complete healing. Daily place these good decisions one upon another and you will find your way to where pain, sorrow, bitterness, anger, unforgiveness, envy and mistrust, no longer rule your life.
What a glorious day to wake up and realize that not only is healing possible, but that it has come to fruition. I know first hand because I have walked that road from dark, dark days into the sunshine, and I know you can too.
[caption id="attachment_1198" align="aligncenter" width="300"]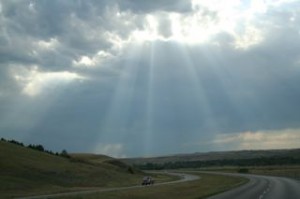 Though storm clouds billow, sunshine prevails.