Are You Exhausted, Discouraged or Troubled?
A Little Wind In The Sail.
Life has been crazy busy. Work eats up many hours of the day, and duties at home even more. I feel stretched and pulled in directions I never thought possible.
My devotions are hurried. My physical exercise depleted. The church clambers for volunteer time and my family who is the most important of all, deserves more commitment.
Like an elephant on a tightrope, I balance this enormous load that is doomed to topple.
Thinking the one thing I love, the one thing I feel led to do must go…I contemplate shelving this blog. I tell myself that I don't have time to write, for I have to carve it out of an already busy day. I ask myself if anyone would miss my ramblings? After all I'm just one among a million minions all trying to be heard in this noisy world.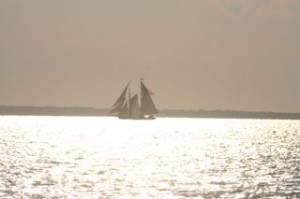 Does God really have a plan to use my pain for His glory? Will I really encourage healing in others, or influence others for good?
A gust blows in, my flagging sail billows and I receive just enough wind to continue on.
God answered this question through a comment I received on a post I wrote about anger and wrong thought processes.
I include it here because I want to encourage you…to continue fighting on in the work and faith of the Lord Jesus Christ no matter what your trial. There is purpose.
In the future I may have to cut back on the amount of blog posts, but I know I cannot give up on what I believe God has told me to do. The following comment reinforces this decision. Written in broken English, I include this with a few edits for readability.
"After searching through the world-wide-web I have to show my thanks to the writer for rescuing me from this type of condition. After coming across things that were not pleasant, I figured my entire life was over. Being alive minus the answers to the issues you have resolved as a result of the posting could have been devastating, in a negative way which may have damaged my entire career if I had not encountered your blog post. Your personal know-how and kindness in handling this subject was so important. I am not sure what I would have done if I hadn't discovered this information. Now I believe its possible to relish my future again. Thanks very, very much for the reliable and results-oriented guide. I won't hesitate to propose your web page to anybody who would like direction about this issue."
We do not, nor ever will understand how God intends to use our most painful situations for His purposes. But if He has appointed a work for you to do, then do it to the best of your ability.
He has promised you healing... believe and hang on to this following promise.
Jeremiah 17:14 "Heal me, O Lord, and I will be healed; save me and I will be saved, for you are the one I praise."
Stay Informed
When you subscribe to the blog, we will send you an e-mail when there are new updates on the site so you wouldn't miss them.
Comments
No comments made yet. Be the first to submit a comment