Do You Need A Divine Helper and Advocate?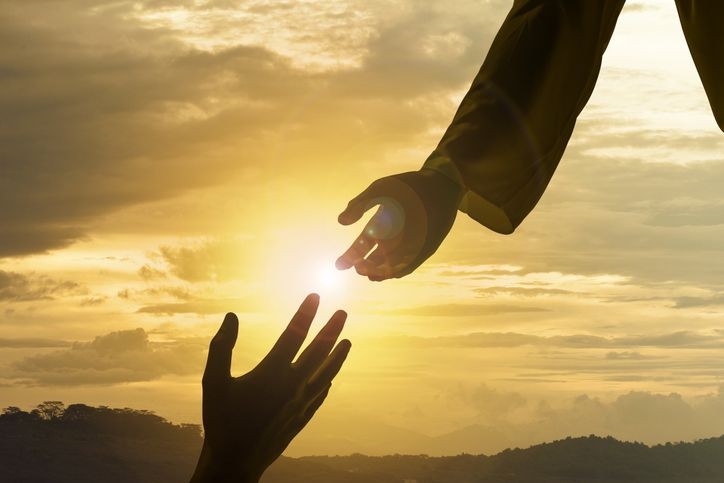 I've had a tough week. All kinds of mishaps, misunderstandings, and missteps. The Scripture that talks about the fact we wrestle not against flesh and blood, (meaning people) but against principalities, against powers, against the rulers of the darkness of this age, against spiritual hosts of wickedness in the heavenly places, (Eph. 6:12) has been my reality.
I opened my mouth when I should have kept it closed.
I let painful memories surface.
I allowed the actions of another bring me down.
I struggled with dark depressing days.
I overall felt low, which is not like me.
I was under attack for sure.
Then I read 1 John 2:1-2 "My little children, these things I write to you, so that you may not sin. And if anyone sins, we have an Advocate with the Father, Jesus Christ the righteous. And He himself is the propitiation for our sins, and not for ours only but also for the whole world."
What this means—when we fall short, when we fall down, when we fall away, or when we struggle to meet the day … we have an Advocate (a defense attorney, one who speaks to the Father in our defense) to represent us before the Father in heaven. This is a good thing to keep in mind when Satan, the accuser, comes against us both to charge us with our sin, or to knock us down. Oh, and he will try. Not only does he bring forces against us, but then he revels when we fail.
Jesus is our divine helper, our Advocate, the one who takes our side in a trial, because He has achieved our pardon for us. He has paid the price for our frailties and our failure. Jesus does not intercede to prove our innocence because we are guilty, he stands in our place and pleads our righteousness because His sacrifice covers all our sin. Satan is silenced.
Our only responsibility when we fail is succinctly summarized in 1 John 1:9 "If we confess our sins, He (Jesus) is faithful and just to forgive us our sins, and to cleanse us from all unrighteousness."
And our only responsibility when we feel under attack is to remember our Jesus. "Greater is He (Jesus) who is in you, then he (Satan) who is in the world. 1 John 4:4
So, I leave you this week with two amazing truths.
You have an Advocate, a helper. You are never alone.
Your Jesus is stronger and mightier than any enemy. He is full of grace, mercy, and strength, just when you need it most.
How do I know what I'm talking about? I put this truth to the test this last week and came out victorious.
Pray with me …
Dear Advocate, come to me now. Take my failure. Take my pain. Take my frailty. I thank you for defending me against my foe, and against my accuser Satan. I thank you for paying the price for my willful and unwilful sin—those times in which I willingly contemplate and perpetrate sin, and those times when circumstances catch me by surprise, and I am less than loving. Thank you that you are my Advocate, my pardon, my friend.
Amen
Listen to this amazing song by Lauren Diagle called Rescue You will feel encouraged.
All Scripture taken from the NIV
Other Titles of God that may encourage can be found on the following dates.1) Elohim-God - October 1, 2018 2) Abba Father - October 15, 2018 3) El Shaddai - October 22, 2018 4) The Truth - October 28, 2018 5) The Alpha & Omega - Nov. 5, 20186) Yahweh-Shalom - Nov. 12, 2018 7) God of All Comfort - Nov. 19,2018 8) The Rock - Nov. 26, 2018 9) Our Maker - Dec. 3, 2018 10) Our Defender - Dec.10, 2018 11)Immanuel - Dec. 17, 2018 12) The Bread of Life - Jan. 7, 2019 13) Yahweh-Nissi - Jan. 14, 2019 14) Yahweh-Rohi - Jan. 21, 2019 15) The Lord - Jan. 28, 2019 16) Deliverer - Feb. 4, 2019 17) Spirit of the Living God - Feb. 11, 2019 18) Yahweh-Rophe Part 1 - Feb. 18, 2019 19) Yahweh-Rophe Part 2 - Feb. 25, 2019 20) King of Kings -Mar. 4, 2019 (21) Adonai - March 11, 2019 (22) I AM WHO I AM - Yahweh, March 18, 2019 (23)The God of Love and Peace-Mar.25, 2019 9 (24) Elohim-a prayer from Daniel 2, April 1, 2019, (25) The Lamb - April 8, 2019 (26) The Savior - April 15, 2019 (27) Yahweh - April 29, 2019 (28) Spirit of Wisdom and Revelation - May 13 ,2019 (29) Jehovah or Yahweh? - May 20, 2019 (30) Bright and Morning Star - May 27,2019 (31) Sovereign LORD - June 3, 2019 (32) God of Hope - June 10, 2019 (33) The Bridegroom - June 17,2019 (34) The God of Glory - June 24.2019 (35) Prayer - July 1,2019 (36) Yahweh Shammah - July 22,2019 (37) Creator of Heaven and Earth - Aug. 5,2019, (38) Friend - Aug. 19, 2019 (39) Wonderful Counselor - Sept. 2, 1-2019 (40) Faithful and True - Sept.23,2019 (41) Light of the World -October 7,2019, 42) The Way, The Truth, The Life,-Oct. 21, 2019 43) The First & The Last - Nov. 4, 2019 44) Advocate - Nov. 18,2019
Stay Informed
When you subscribe to the blog, we will send you an e-mail when there are new updates on the site so you wouldn't miss them.
Comments
No comments made yet. Be the first to submit a comment